Sherman Farm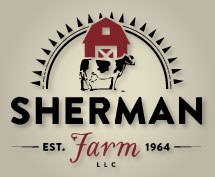 Products available: Our Farm Market is open year-round, selling a wide array of farm-raised products as well as many items produced in New England. In-season vegetables are available from April through November.
Where to buy: Farm stand - 9am – 5pm daily.
Growing practices: Low spray/IPM.
CSA Market Share: Sherman Farm's Farm Futures Program is a farm store credit style CSA where for every $100-share you buy, you receive an extra $10 in market credit. Your card can be used to buy anything at the market at any time, so you get what you want, when you want it.
Incentives: Our Farmstand is a SNAP approved vendor.
2679 East Conway Road, Center Conway, NH
Michele Dutton
(603) 939-2412
farmer@shermanfarmnh.com
http://www.shermanfarmnh.com/