Sherman Farm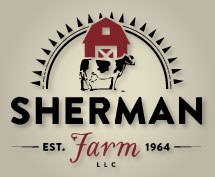 Where to buy: Farm stand year round. CSA farm shares available. Wholesale delivery Mon and Thurs.
Growing practices: Conventional growers using IPM
CSA Market Share: Sherman Farm's Farm Futures Program is a farm store credit-style CSA where for every $100 share you buy, you receive an extra $10 in market credit. Your card can be used to buy anything at the market at any time, so you get what you want, when you want it.
2679 East Conway Road, Center Conway, NH