Food For All
MWVEG wants to help make local food accessible to local folks of all income levels. We have raised funds to help low-income community members buy local food through farm CSA shares or Farm Store/Market Credit Programs. The farms below are members of Mount Washington Valley Eaters and Growers (MWVEG) and are partnering with us to bring you local food.
See the options below and indicate on the application which farm and option you would like to receive funds towards. Total funds awarded to each applicant will be no more than $200. Funds can only be used towards farm-grown products (ie: fruits, vegetables, herbs, dairy, meat, honey/maple).
Please complete this application if you are in need of assistance in purchasing local food for the 2021 farm season. Funds are limited so awards will be chosen by lottery.
Please apply by April 15th.


We hope to keep this program ongoing for as long as possible. If you'd like to help support this cause please share your kindness by donating to the program!
MWVEG Partner Farm Options listed below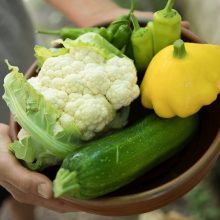 Spice of Life Farm Options (North Conway, NH)
Facebook
Egg Share 20 weeks of Eggs starting May 9th through September 19th - $100
Farm Store Credit - up to $200
A New Day Farm Options
(Pickup in Conway, and North Conway, NH)
Facebook
Summer CSA Share total cost $384 (16 weeks)
Fall CSA Share $144 (6 weeks)
Pork Hill Farm Options
(Pickup in Ossipee, Conway and North Conway NH)
www.porkhillfarm.com
Spring: June 15 & June 22 (2 weeks) - total cost $50
Summer: June 29 through Sept. 7 (11 weeks) - total cost $350
Fall: Sept. 21 through Oct. 12 (4 weeks) - total cost $125
Full Season: June 15 through Oct. 12 (17 weeks) - total cost $525
Salad Share: June 29 through October 12 (11 or 15 weeks) - total cost $220 - $300
Herb Share: June 15 through September 7 (11 or 13 weeks) - total cost $220 - $260
Mountain Heartbeet Farm Options
(Pickup in Effingham, Markets in Tamworth & Wolfeboro NH)
mountainheartbeet.com/about-this-csa.html
Summer individual CSA Share (9 pickups every other week) - total cost $300
Summer Family CSA Share (9 pickups every other week) - total cost $550
October CSA Share - total cost $100
Thanksgiving CSA Share - total cost $100
Farmers Market Credit (Wolfeboro, NH or Tamworth, NH)- up to $200

Foothill Farm Alliance
(Pickup in North Conway, Conway, Ossipee, NH & Gorham, ME)
foothillfarmalliance.com
Winter CSA - (7 shares November thru January) - total cost $400
Highwater Farm Options:
(Bartlett, Market in North Conway, NH)
highwaterfarmnh.com
Farm Store Credit - up to $200
Farmers Market Credit (North Conway, NH) - up to $200
Red Gables Farm (Tamworth, NH)
mwveg.com/members/red-gables-farm
Farmers' Market Credit (Tamworth, NH) - up to $200
Top of the Hill Farm (Wolfeboro, NH)
Facebook
mwveg.com/members/top-of-the-hill-farm
Farm Store credit in increments of $50
Waxing Moon Gardens Options:
(Pick up in North Sandwich, Tamworth & North Conway, NH)
waxingmoongardens.com
Full CSA Share (18 weeks) - total cost $550
Half CSA Share (18 weeks) - total cost $275
Davis Natural Produce Options
(Pickup in North Conway & Conway, NH)
davisnaturalproduce.com
Summer CSA Share - Half Share (14 weeks) - total cost $250
Summer CSA Share - Full Share (14 weeks) - total cost $500
Hosac Farm Options
(Pick up in Cornish, ME or Conway, NH, Markets in Bridgton and Kennebunk ME)
hosacfarm.com
Full CSA share (14 weeks) June-October - total cost $450.00
Summer CSA share (8 weeks) July and August - total cost $265.00
Farmers market credit (Bridgton ME or Kennebunk ME) June-October - up to $200.00
Remick Museum and Farm Options (Tamworth, NH)
remickmuseum.org
Farm Store Credit - Increments of $50
(To be used towards maple syrup, eggs, and/or cuts of beef, pork, lamb, or whole chickens)

The Farm by the River Options (Effingham, NH)
Facebook
Farm Credit (for lamb or honey) - up to $100
White Gates Farm Options (Tamworth, NH)
whitegates-farm.com
Farm Store or Farmers Market (Tamworth NH) Credit - Increments of $50
Mivida Gardens Options (Tamworth, NH)
mividagardens.com
Farmers' Market Credit (Tamworth, NH) - Increments of $10
Farm store credit - Increments of $10
(To be used on Onions, Shallots or Leeks during Oct, Nov, or Dec)
Thompson House Eatery (Jackson, NH)
thethompsonhouseeatery.com
Farm Stand Credit - Increments of $25