Old Wells Farm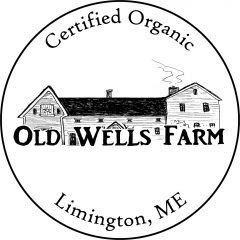 Products available: Mix organic vegetables.
Where to buy: CSA, Greater Gorham Farmers' Market (ME).
Growing practices: Certified Organic, Certified Real Organic Project.
CSA: Join us for the 2022 season with 16 weeks of fresh, organic vegetables available weekly June - September for $450.00. CSA members will also have access to our weekly newsletter with recipes, poems, written curiosities, and farm updates. We offer pick up at our farm in Limington, a local store in Gorham ME and at Broadturn farm in Scarborough ME. Sign Up: Here on our website.
991 Cape Road, Limington, ME
Dylan Watters
(207) 807-8000
oldwellsfarm@gmail.com
https://oldwellsfarm.com/
Products
Arugula
Asparagus
Beans
Beets
Bok Choi
Broccoli
Broccolini
Brussel Sprouts
Cabbage
Carrots
Cauliflower
Celery
Cucumbers
Eggplant
Garlic
Greens
Kale
Kholrabi
Leeks
Onions
Parsnips
Peas
Peppers
Potatoes
Pumpkins
Radishes
Rhubarb
Root Vegetables
Seedlings
Spinach
Squash
Tomatoes
Turnips
Zucchini
Some products may be seasonal. Contact for more information.