Earle Family Farm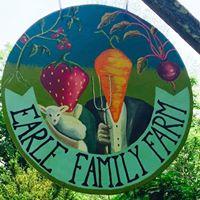 Products available: Berries, lamb, maple syrup, sweet corn. Our additional produce offerings change year to year, please call ahead to check for availability.
Where to buy:
CSA with
Foothill Farm Alliance
, Farmstand - Year-round maple syrup, seasonal farm products, 9am – 5pm, Self-serve. PYO - raspberries and highbush blueberries, call ahead for availability.

Growing practices:
All produce grown without chemical fertilizers or synthetic pesticides, we use farm made biodynamic compost. Sheep flock pasture raised during growing season.

CSA:
See
Foothill Farm Alliance
.
9 Baird Hill Road, Center Conway, NH
Products
Berries
Corn
Cucumbers
Eggs
Greens
High Bush Blueberries
Lamb
Maple Syrup
Peppers
Potatoes
Raspberries
Root Vegetables
Tomatoes